Bathroom Services in Dundee
Bespoke Bathroom Design
Are you fed up of your old, damp and dull, leaky bathroom or shower room?
Do you dream of owning your own "showroom" bathroom or shower room, give us a call and make your dreams a reality.
Need an Extra Toilet or En-suite?
Ever thought "I could use an extra toilet or en-suite?"
That cupboard, loft space, corner of the room all going to waste? Our speciality, we can utilise just about any space.
From brand-new flooring to ceiling installations, modern lighting systems, luxurious jacuzzi baths, and powerful showers – we handle every aspect of your project. Our services extend to plastering, expert decorating, and thorough site clearance. Once you receive our quote, you can rest easy knowing that we'll take care of every detail. There's nothing left for you to do but let us work our magic.
Mirrors and Lighting: Good lighting plays a pivotal role in creating the ideal ambiance for your bathroom, whether you're preparing for the day or indulging in a relaxing soak. We specialise in designing and installing an array of mirrors, available in various styles and colours. These mirrors not only enhance your bathroom's aesthetics but also streamline your daily routine. Should you desire a full-length mirror, we can readily incorporate it into your bathroom layout to align with your personal preferences.
Bathroom Furnishings: The strategic placement of furniture within your bathroom can be a powerful design element. It not only complements your bathroom's overall aesthetics but also provides valuable storage space. Our experts can offer guidance on selecting the perfect furniture pieces that harmonise with your bathroom's design. We'll procure and skillfully install the chosen furniture, ensuring it adds a stylish finishing touch to your bathroom space.
One call really does solve it all!
Supply, Build and Installing of Luxury Bathrooms
DDHI, located in the heart of Dundee, specialises in the supply and install of premium-quality bathrooms across Dundee and the Tayside Region.
Our unwavering commitment to excellence spans from the initial design phase to the final installation. We have been instrumental in creating elegant and practical bathroom spaces in homes throughout Dundee, Tayside, and beyond.
Our remarkable journey in the industry has been greatly influenced by the power of word of mouth and glowing customer reviews. We remain acutely aware that our current success is primarily attributed to the satisfaction and loyalty of our customers. Their positive feedback and recommendations have allowed us to reach the position we hold today. Customer contentment is our top priority, and we are dedicated to ensuring that everyone who reaches out to us experiences the exceptional service that defines our company.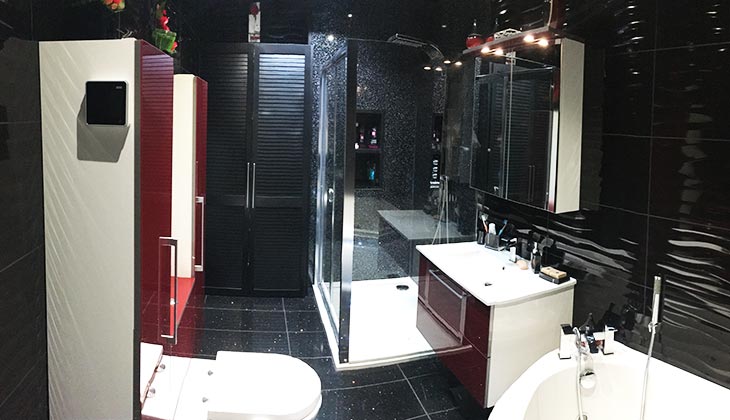 Our bathroom services include:
Bathroom Planning
Bathroom Refurbishments
Bathroom Repairs
Cloakroom Installations
Concealed Plumbing
Electrical Work (lighting, showers, shaver points etc.)
Wall and Floor Tiling
Sanitary Ware Installation
Shower Installs
Shower Pump Installs
Towel Rail Installations
Underfloor Heating
Wet Room Installations
---
Are you considering a bathroom makeover in Dundee or contemplating a suite replacement? We specialise in guiding you through the process, offering a range of styles from classic to contemporary. What sets us apart is our comprehensive project management service, ensuring a hassle-free bathroom renovation journey. Your only concern will be how incredible your revamped space will look.
For countless years, DDHI has been the trusted choice for bathroom installations in Dundee. We handle a wide array of installation projects, bringing ample knowledge, expertise, and experience to the table. Regardless of your bathroom vision, we approach each task methodically.
1. Bathroom Renovations
Initial Quotation: As a premier Dundee bathroom company, we provide transparent, no-obligation quotes for all projects. Our quotes encompass your ideas, requirements, budget, and timeline. We meticulously price every installation job, whether it's a complete bathroom refurbishment or a smaller task, ensuring your budget is maximized while eliminating any surprises.
Bathroom Design: If you already have a design in mind, we'll review it carefully. If not, our design services are at your disposal. We can even translate your ideas into detailed CAD drawings if necessary.
Pre-Fit Survey: If we haven't surveyed your bathroom during the quotation phase, we'll conduct accurate measurements to ensure a precise fit before commencing work.
2. Bathroom Design and Installation in Dundee
Once all details are agreed upon, our Dundee-based bathroom fitters will assign a dedicated project manager to you and provide a planning document. This document serves as a roadmap, keeping our skilled tradespeople on track throughout the project.
Ready to Get Started? Arranging a visit to discuss your new bathroom and the installation process is easy. We can begin by providing you with a comprehensive initial quote.
3. Bathroom Installation in Dundee
Sometimes, a complete redesign isn't necessary; simple improvements can refresh your living space. DDHI excels in all facets of renovation and can offer guidance on straightforward bathroom renovation ideas that will transform your home.
Whether you're embarking on a small-scale refurbishment in Dundee or a full-scale bathroom renovation elsewhere, we're here to make the process smooth and enjoyable. Renovation doesn't have to be daunting; it can and should be an exciting endeavour.
4. Bathroom Designers in Dundee
Before entrusting DDHI with your project, you might have numerous questions. Whether you have a design ready or not, we're here to simplify the design and renovation process. Feel free to reach out with any inquiries.
5. New Bathroom Dundee
Explore the products and suppliers we recommend for your home bathroom renovations. Investing in quality products from experienced suppliers and fitters guarantees the best results.
6. Bathroom Renovation Costs
Curious about bathroom renovation costs? Wondering about the budget for a small bathroom renovation or a larger project? Costs vary widely across the UK, depending on your choices. Whether starting from scratch or considering plumbing and fixtures, DDHI decorating services can assist.
7. Bathroom Specialists in Dundee
When planning a complete bathroom renovation, several factors come into play, from assessing the existing layout to deciding on fixtures. If you're looking to control costs, compromising on quality sanitaryware might seem tempting, but it's counterproductive for long-term results. To achieve your dream bathroom while keeping costs manageable, seek professional advice.
A bathroom refurbishment involves various trades, such as plumbers, electricians, and tilers. DDHI streamlines the process, ensuring tradespeople work in harmony, speeding up the project and minimising unnecessary costs. We can also assist with sourcing materials and furniture, offering entry-level sanitaryware and bathroom furniture from recommended suppliers.
For a glimpse of our exceptional work, check out our gallery page , showcasing our work in the past.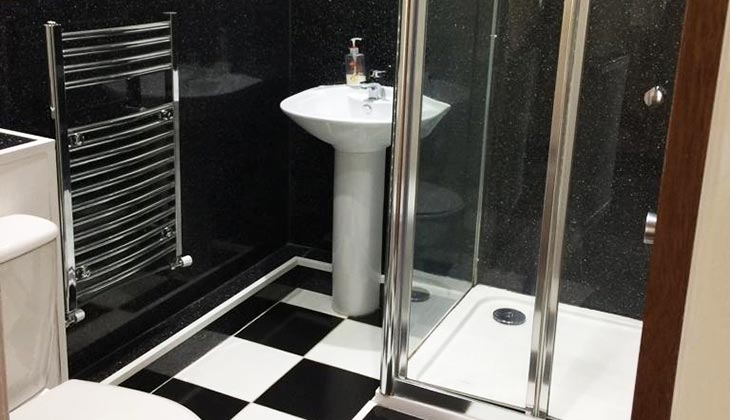 Full Service
We provide a full design and consultation service for your installation.
Pride in our Work
Our success is based on a very simple philosophy, complete customer satisfaction and immense pride in a job well done!
Thanking Ian and Andrew and their team for the beautiful bathroom they installed for us this week, my bathroom now looks like a beautiful hotel bathroom, all the guys were super friendly and I can't recommend them enough.

Alison Menzies
For more about what our clients say about our home maintenance services, then please go to our testimonials page.